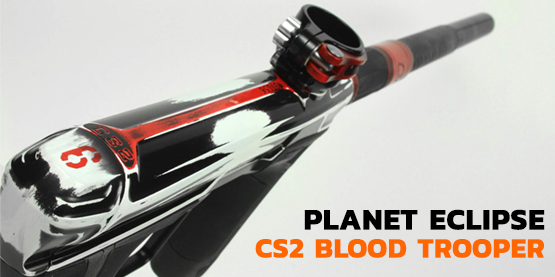 In our latest issue of "Behind the Scenes" Ledz from Planet Eclipse talks about refining markers with Cerakote. You can also find out more about Nightmare Inc, the company responsible for the refinement.
Ledz:
Over the years I think we can say that we have been on the cutting edge of metal finishes. We helped develop the original Splash which lead the wave of fades and acid wash that we saw in the 90's. Planet was the first to create the cool Aurora finish on markers and we have developed some amazing custom graphic anodising finishes and our full body wraps, like the HDE Camo pattern. We have even commissioned an artist that specialisted in anodising art to make us something super special, but let's just say artistic differences stopped that project from going much further.
When we visit real gun shows like IWA and Shot Show I'm always impressed with the 'Show Pieces' that some vendors create for display. I have tried several times to speak to them about how they do it and who does it but I got stone walled every time. I found out quite early on that the finish that they have on these show pieces is called Cerakote (other brand do exist) but even when you speak to Cerakote on their booths you get very little help. But we never give up and after 3 years of, well, not a lot of progress, a knight in shining armour comes forward out of the Cerakote Finish mist in the form of Nightmare Inc. I'm sure there are loads of companies that do this service as it seems very popular in the real steel world but having someone that can do the process AND knows Paintball is the diamond in the rough we were looking for.
We had two commissions done in time for World Cup 2018 which was the Stars and Stripes CS2 and the Union Jack LV1.5 Both went down a storm but we still had some tweaking to do in order to make this a product we would be happy putting our name against.
So time passes and a few experiments later and we are now at the stage that we are super happy with the finish that Nightmare Inc are putting on the Planet Eclipse markers.

Nightmare Inc.
But before I go on. What the hell is Cerakote? Well, in it's very basic form it is a protective coating that a lot of real steel gun owners use to coat and protect their guns. I guess in the beginning clear coat was developed and then as people get a thirst for things more fancy the colours developed and then the techniques to make more than just a single colour flourished to where we are today. The Cerakote doesn't replace anodising on Paintball markers it's there 'as well' as the anodising. All of the super critical parts of the marker are masked/plugged up before the process starts to make extra sure that nothing is going to go wrong. Any marker that you see Planet Eclipse advertise is built and backed up by the amazing Planet Eclipse warranty and the Cerakote finish is covered by Nightmare Inc.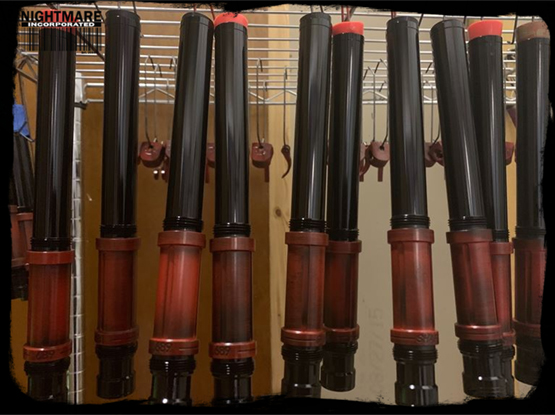 But as we are no experts on this finish we asked the guys (Nerds) at Nightmare Inc to explain a little more about Cerakoting…
Nightmare Inc.:
Thank you Planet Eclipse for the great introduction. We here at Nightmare Inc. started in the custom game with our Wood Grain Loader about 5 years ago. From there we have completed hundreds of custom jobs for all levels of players. Being real steel gun owners we knew of Cerakote and how it works. Owning a paintball store, we thought we could bring both of these worlds together and start using Cerakote to customize paintball products.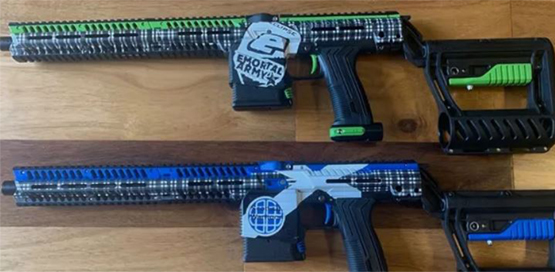 There are 5 different variants including clear coats that are produced by Cerakote. We chose Cerakote H series for the strength and variety of colors available. Cerakote H series is a baked on ceramic based polymer coating with great properties for the abuse that paintball markers take on the field. It has very high abrasion and wear resistance properties along with solid impact strength. Another benefit is it is highly resistant to chemicals, so paint or oil will not affect the coating over time. The ability to do polymers as well lets us match your tank and loader to your marker where the colors will be identical and not just close.
Being only 1 millimeter thick when applied, Cerakote allows us to lay a smooth thin coat that does not interfere with the specs of the markers even with multiple layers for graphics. Cerakote also has a multitude of colors to choose from along with true white, which is a rarity in the paintball world. Cerakote does not need to have a clear coat but depending on the customer there is a flat and gloss clear option to add an extra layer of protection. As always we thoroughly test our process on our own gear as well as gear lent to us by great companies like Planet Eclipse to make sure we get it right. There is always the possibility for error but we stand behind our work and will correct any issues that arise. We look forward to bringing something new to the game we all love to play.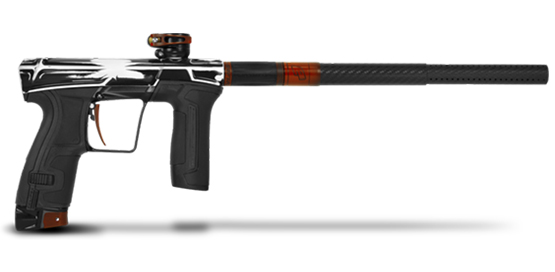 Planet Eclipse CS2 Blood Trooper
At World Cup in Florida last week we have a couple of beauties on Display. Rust and Blood Trooper. The Blood Trooper is one of 21 CS2's we have produced in conduction with Nightmare Inc. The one at World Cup was blank but the other 20 are number on the back cap from 1 to 20.
The Rust one is a one off and a personal favorite. It will be the only one we will ever make on a standard CS2 body!
The Blood Troopers will start to ship next week so if you want one get in touch with your local dealer ASAP so they can grab one for you. Only 21 World Wide. All Unqiue...